This is Hotel Express online works
How to use Hotel Express online
Welcome as an online user of Hotel Express. Below you will find information about how to use Hotel Express online.
If you have more questions, you are of course welcome to contact us, and we will help you!
Phone: +46(0)19-16 60 60
E-mail: info@hotelexpress.se
Sign in
You can always find Hotel Express online via our app and website, click on Book hotel.
Your login information:
You will receive your login details in an email from us. If you have not received your login details, please contact us.
Remember to change your password when you log in.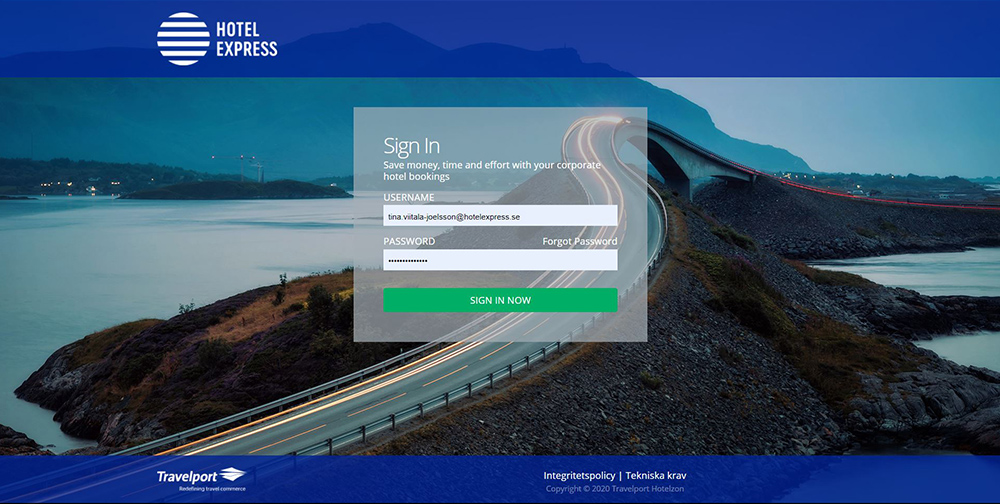 You are now logged in
At the top right, next to your name, you will find the menu. Here you will find your favorite hotels, your bookings and your user profile.
The menu is always available no matter where you are on the site.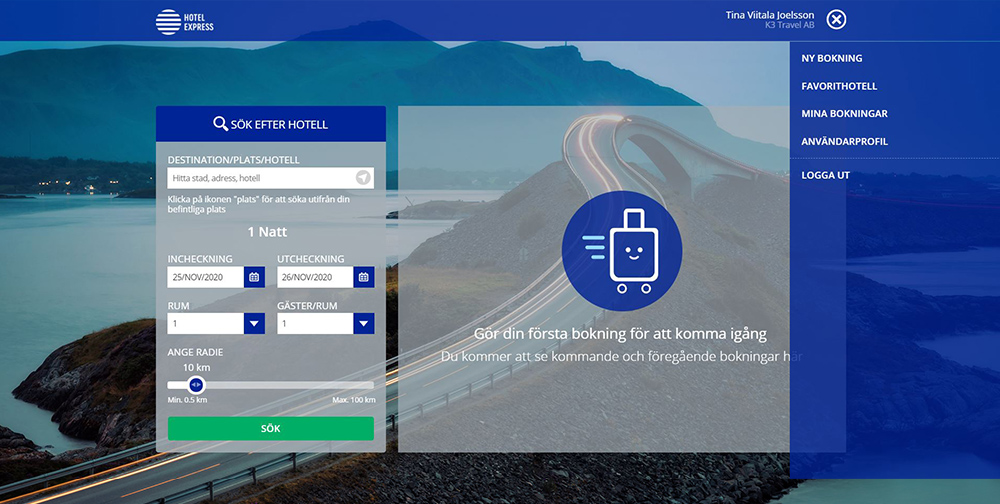 User profile
In your user profile you can change your password, please do so directly the first time you are logged in.
If you have loyalty cards at one or more hotel chains, you can add them here. Then they are saved and you get your bonus when you live on each chain.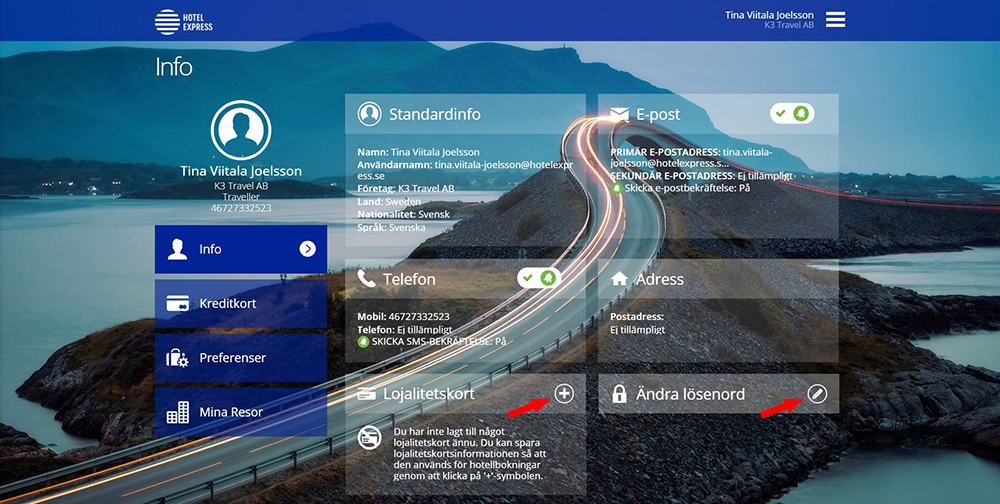 Add credit card
Click the credit card tab to add your payment information.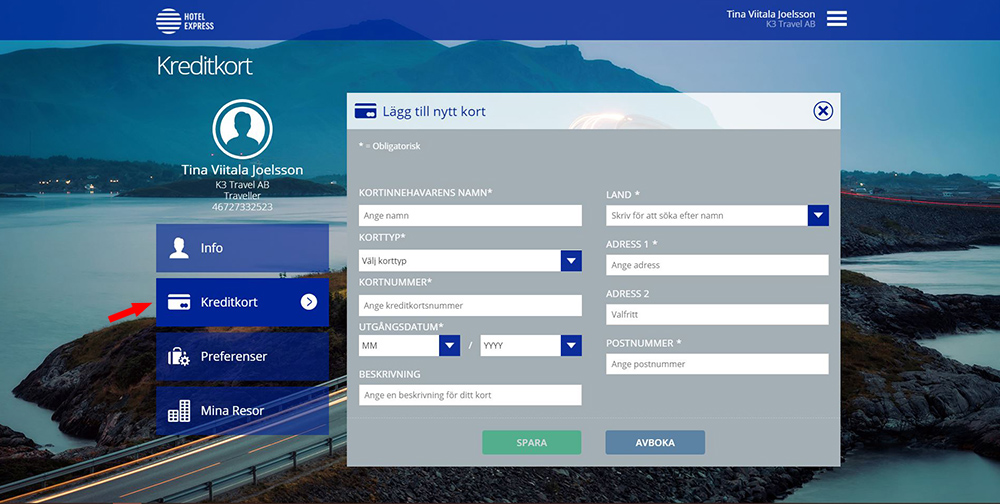 Search hotels
To return to the home page where you are searching for hotels, you can click on the Hotel Express logo at the top left, or click on new booking in the menu.
Fill in the place you are going to visit, dates, number of rooms and number of guests. Click search.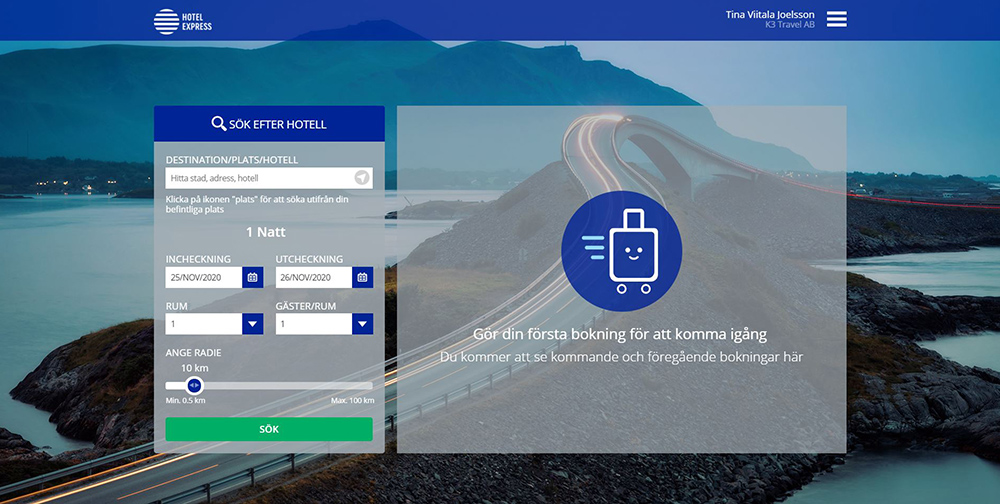 Book a hotel
When you search for hotels, you will see a list of available hotels in the city you searched for.
If you have a favorite hotel, you can mark the hotel with the little heart in the upper left of the picture. You will then find your favorite hotels in the menu.
Choose the hotel you want to stay at, then you will get the room options available at the hotel that night. Select room and proceed to fill in booking information.
Price
The Hotel Express logo indicates that your contract price is bookable at this hotel on the selected date.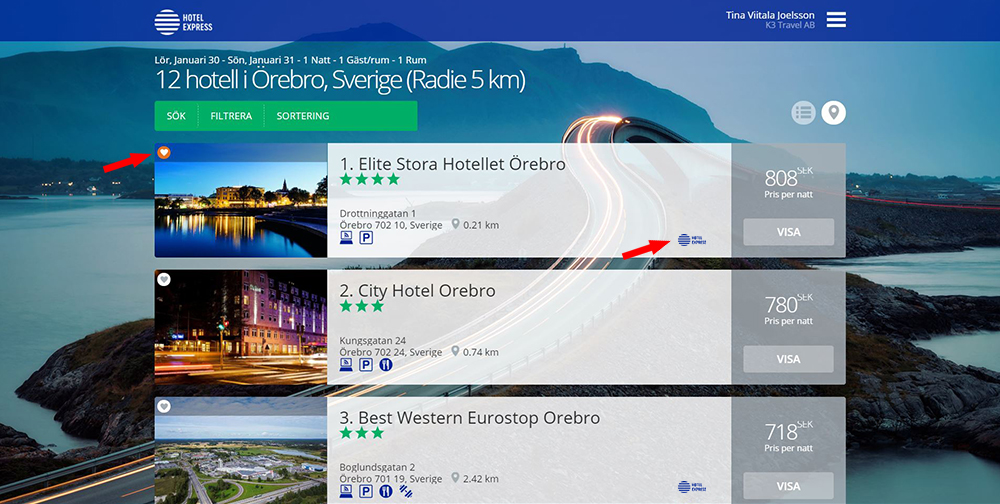 Kontakta oss
Är du intresserad av att gå med i Hotel Express eller har du någon fråga till oss? Ange dina kontaktuppgifter nedan så kontaktar vi dig!
Hotel Express by K3 Travel AB
Kyrkogårdsvägen 2A, SE-703 75 Örebro
+46 (0)19-16 60 60
info@hotelexpress.se